Every so often, a dynasty emerges in the NBA that reshapes the way the game is played. Luckily for fans in San Antonio, they had the good fortune to witness such a team first hand.
The San Antonio Spurs have been one of the league's fiercest competitors since Tim Duncan was drafted in 1997, never failing to make the playoffs, as well as achieving the ultimate goal four times.
However, every great regime eventually falls, and the descent has been occurring slowly before our eyes for quite some time now. The Spurs, though still an elite team, are no longer the league's best, and it may finally be time to acknowledge the end of an era.
Stars Tim Duncan and Manu Ginobili are reaching the conclusion of their illustrious careers, and it has reached the time to begin a new era.
The leader will be Tony Parker, at least for the time being, but with such an amplitude of talent in this league, the chances of him leading the Spurs to a championship are slim to none.
However, the Spurs still can remain a competitive team in the future, even without its once-great leaders. If they follow these steps, then it would be ignorant to rule out another interval of glory in San Antonio.
Trade for Picks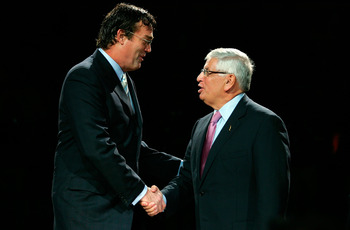 Ronald Martinez/Getty Images
Swapping George Hill for Kawhi Leonard will likely go down as one of the most rewarding trades in San Antonio Spurs history. While Hill certainly was a solid player, he was easily replaceable, so when the front office saw an opportunity present itself to exchange him for a first-round pick, they took advantage of it.
Now, we are seeing a similar trend forming with Gary Neal. Like Hill, Neal has been a fantastic contributor to the Spurs' success. However, with the emergence of Patty Mills and Danny Green, Neal is not irreplaceable. 
He has established himself as a solid role player, but we are yet to see any star potential from the young man. If the Spurs are interested in maximizing their opportunities of acquiring a star, flipping Neal for an eventual lottery pick would be a fantastic decision.
With so many guard options, as well as a plethora of players developing overseas, parting with Neal, or any other guard if the opportunity presents itself, should be a no-brainer for the team.
Give the Younger Players Bigger Opportunities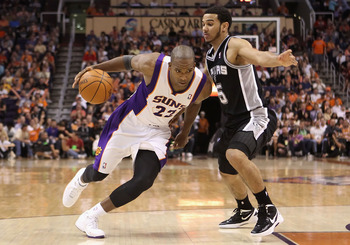 Christian Petersen/Getty Images
Last season, Danny Green was the Spurs version of Jeremy Lin, as the young shooting guard who struggled prior to the season to find a secure home, soon found himself in the starting lineup.
By mere chance, Manu Ginobili suffered an early injury, resulting in multiple experiments by Gregg Popovich to find the player to fill his spot.
The answer came in the form of Green, who averaged just over nine points on the season. His breakout allowed the team to play Ginobili off the bench, something they were accustomed to doing earlier in his career.
Now that Green has likely secured his spot in the starting lineup, he'll be a major part of the team's future. With the 2013 season approaching, it will be interesting to see if there are any surprises on this year's roster.
Green was given the opportunity as a result of Ginobili's injury, and had it never occurred, Green may not be the household name he is currently. If Pop were to experiment a bit more and give some of the other guards the occasional in-game opportunity to prove their worth, we may be pleasantly surprised.
Who knows? Maybe there is an All-Star hiding somewhere amongst their long list of reserves.
Replace Matt Bonner with DeJuan Blair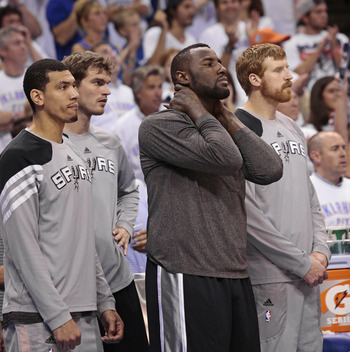 Brett Deering/Getty Images
I have expressed my displeasure with Matt Bonner multiple times, but I still find it necessary to mention it again.
Bonner, known for being a three-point specialist, has somehow not only found himself receiving playing time on a contending team, but receiving an abundance of it.
Despite being practically useless anywhere but beyond the arc, Bonner received an average of 20.4 minutes per night, while talented players like DeJuan Blair sat from the bench and watched.
Bonner is a waste of space, and is a major liability to the team on both defense and the boards. Yet, Pop still finds reasoning to give him legitimate playing time. 
Why? I've been trying to figure that out for years, and I'm still yet to find an answer. However, with Blair watching from the sidelines, my overall distaste with the situation reached an all-time high last season.
Blair is 23, nine years younger than Bonner, whose trifling career may soon come to a close. He is yet to reach his full potential, and the extent to which he can improve is yet to be determined. Bonner on the other hand, reached his ceiling years ago, and it wasn't that high.
Bonner brings little value to the team, especially in the long run. Whether he be substituted for Blair or any other player, it would be wise for his playing time to see a steep decline in the upcoming season.
Start Tiago Splitter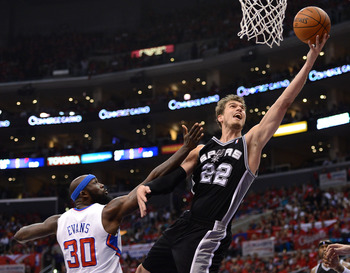 Harry How/Getty Images
My feelings about Tiago Splitter have fluctuated greatly over the past few months, perhaps more so than any other member of the roster.
At times he shows flashes of talent, giving fans the hope that he may one day be the next Tim Duncan. Okay, maybe that's going a little farâ€"but you get the point.
However, despite his brief displays of stardom, Splitter often appears lost on the court, with the inability to complete even the simplest of tasks. 
Still, while he may not have established himself as one of the league's top big men, he is the only true big man on the roster, excluding Duncan. At 6'11'', having been a part of the team for a while, Splitter will likely be Duncan's replacement, when his eventual retirement does come.
Despite his frequent signs of incompetency, Splitter does bare a striking resemblance to Duncan with his focus on defense and excellent pick-and-roll game. He'll never meet the standards set by the Big Fundamental, but he could possibly be an excellent successor.
If the team really wants to ensure that Splitter is fully ready to take on the duties of leading the frontcourt eventually, giving him the starting role now would be an excellent idea. Not only would his importance to the team escalate, but he'd get a sense of what it feels like to be a starter.
Playing alongside Duncan wouldn't hurt his chances to emulate the star, to be quite frank.
Duncan may not hang his jersey up for another few years, but if Splitter is going to lead the team's post attack in the future, it is important to give him a large role now.
Increase Kawhi Leonard's Role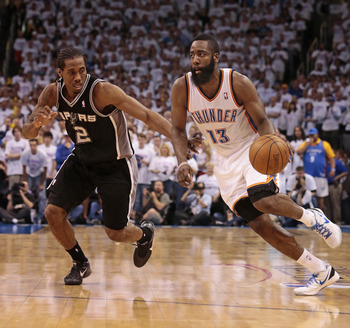 Brett Deering/Getty Images
After his sensational rookie campaign, it is quite obvious that Kawhi Leonard will be one of the San Antonio Spurs' future stars. He displayed remarkable professionalism, as well as pure talent and an outstanding work ethic.
His unquestioned motor in addition to his tenacious defense, above-average three-point shooting and an overall display of ease when it comes to attacking the rim, have made him the prime candidate to one day become the face of the Spurs. Just ask Coach Popovich.
However, Leonard suffered the same fate that every other Spurs player was subject to last season. Regardless of age or talent, few players found themselves averaging a large amount of playing time. Due to their incredible depth, only Tony Parker found himself averaging over 30 minutes per game, with his 32 minutes being modest when compared to other stars.
If Leonard wants to truly reach his ceiling, it is essential that Pop increases his minutes, so that he averages the second-most, behind Parker.
His 24 per game were understandable being that it was his rookie season, but now with a season and a summer's worth of training camp under his belt, Pop must give Leonard a larger role.
Begin Slideshow
Keep Reading

San Antonio Spurs: Like this team?